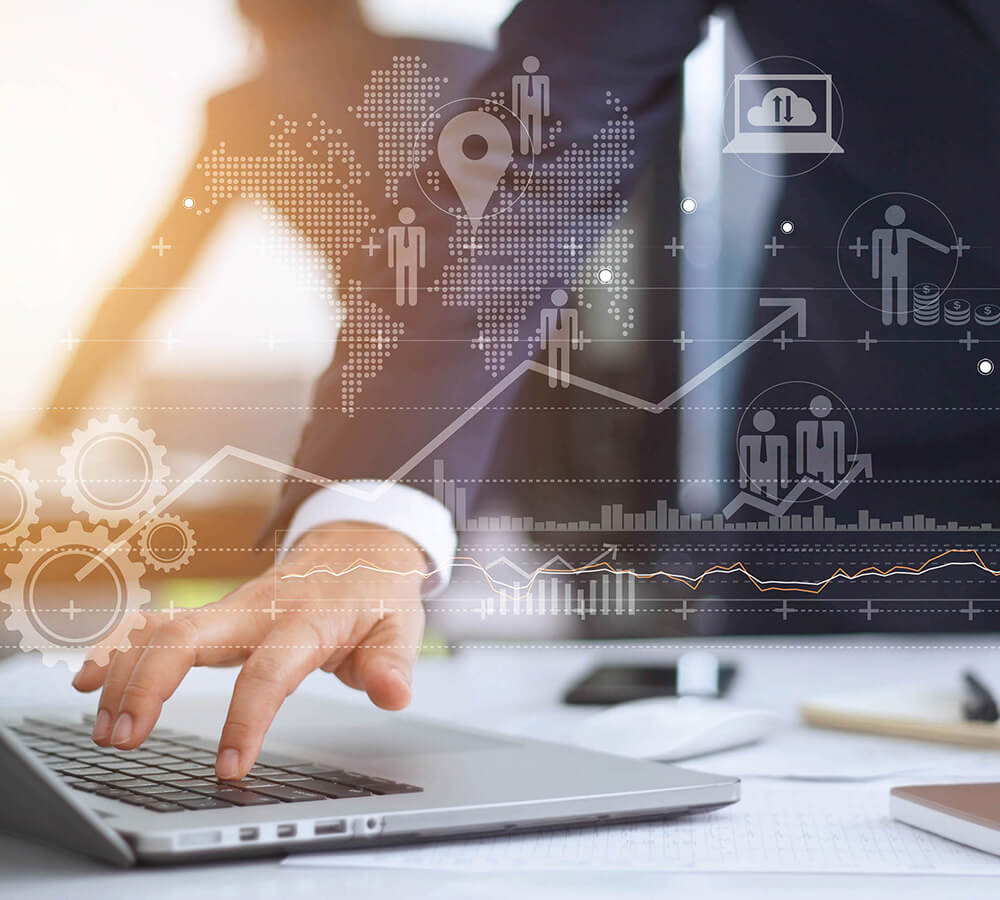 The Supersonic Story!
Building a smart pathway to success!
We believe in solutions that are smart, fast and affordable. We appreciate a well-planned product strategy, which is something few agencies do (strength and stamina). This is how we tailor to your needs and help your business model SupersonicIT. We place a premium on making sure your business is ready to take advantage of the latest in web and mobile technologies to provide outstanding user experiences via crystal-clear messaging and an intuitive interface.
Our team has a wealth of marketing and technical expertise to help our clients from concept to code. Our whole crew believes in solving the business problems with technology. We are committed to deliver the IT solutions that enable you to work smarter.
We have worked hard to establish our reputation, and we honour it by offering the same level of service and care to every customer, no matter how big or little the company. This includes everyone from small startups to large blue-chip multinationals.

Our Services
Let's convert your vision into reality.
---

Website Design & Development
75% of online visitors judge a firm by how professional its website seems. We make sure that your website stands out from the rest by understanding your needs and making a user-friendly, sleek, and catchy website.

Search Engine Optimization
We provide innovative Search Engine Optimization Services to help you increase your sales. Our SEO services are custom-tailored to match your goals, enhancing your website's rating and presence on Google and other search engines.

Social Media Marketing
Our staff knows exactly what it takes to bring you to the page of Search, whether it's by growing links on third-party sites, issuing press releases to draw attention to your current offer, or promoting your brand on social media and directory sites.

Mobile Apps
Unique mobile apps are what we specialise in. From the first consultation through the launch of your app and beyond, our mobile app development services cover it all.

Graphics Design
Our talented graphic designers are persistent in their search for fresh approaches to meeting the demands of our customers. We also combine tried and true advertising methods with cutting-edge graphic design software.

Web Maintenance
Whether you need to make frequent updates to your site or want to automate your business procedures, we can help you do it in a way that is simple, safe, and convenient for you.
Have a customer referral for Supersonic IT Solutions?
Why are we the People's Choice?

Multi-Industry Expertise
We are able to provide a range of talents and knowledge for any project we work on thanks to our extensive industry experience.

Dedicated team
Working with us means teaming up with a group of seasoned experts that are dedicated to going above and beyond for you.

Flexible
You can count on us to have a thorough grasp of your unique needs, industry rules, and standards since we have previously worked with hundreds of companies that are similar to yours in size and speciality.

Trusted by Users
We have a stringent policy regarding personal information in order to deliver the most reliable technical support possible. We take protecting your privacy very seriously and never sell or share your information.
We believe in building Successful Business stories together!
Our staff understand that a website must meet two key requirements. First, we create a design that conveys the individuality of your business and attracts consumers. Our method is entirely data-driven. A thorough understanding of your business's objectives, target demographic, and competitive environment is essential for generating money and influencing your sector.
We put much thought to how visitors conduct themselves following their arrival. Every web page is designed with the objective of converting the visitor, and we collaborate with you to accomplish this. When it comes to translating our customers' ideas into practical software development solutions, SupersonicIT employs only the most cutting-edge technical frameworks and business practises. We use a tried-and-true method of process calibration to help you expand your business while maintaining the highest standards of service quality and productivity.
What Clients Say

---
I wanted to say a big Thank You for all the hard work you and your team has put in for the design and development of our Academy Portal. The overall experience during Portal development has been highly positive. Rajat, you took the lead to understand our requirements clearly and gave us valuable suggestions (even on some things that we had not thought of!). Riya and Shivani supported us throughout our journey unconditionally! Supersonic Team's customer focus and professional approach are remarkable. It was indeed a pleasure having our website project delivered by you! We recently completed a successful run of our Bootcamp using the Academy Portal. I am delighted to share that the automation built-in within the Portal reduced manual efforts significantly. It saved our time and effort by 80% to 85%. Keep it up, Team Supersonic!
We worked with Rajat and Supersonic IT to develop a modern React-based SaaS application in the HealthCare sector. The team was great and easy to work with and the pricing was super-competitive. What I liked best about Supersonic was access to the development team to deal with any issues in a timely manner. Their team has continued to support me with my customer presentations well after project completion. Would be happy to go back to them for my next project.
If anyone is looking for a Web Developer, Digital or Content Marketing professional I highly recommend Rajat Aneja from Supersonic IT Digital. Rajat and his team are nothing short of web superstars!! No job is too small and nothing is ever too much trouble for them. They have come to my rescue multiple times now, always going above and beyond. So happy that I've found a Web Developer that I can stick with. Thanks Rajat!! ????
I am so happy with Rajat Aneja and the team at Supersonic IT Solutions Pty. Ltd. I recently had a few problems with my website and Rajat jumped to my rescue. He was upfront, giving an exact quote and offering to complete the job then and there. Throughout the job he sent me updates, was extremely helpful and friendly. The whole job was very affordable and of exceptional quality. Will definitely be using their services from now on. Can't recommend them enough!!
We've built a great relationship with Supersonic IT and honestly their dedication towards the SEO and our website is very impressive. I appreciate the creative approach and attention to detail. They make it all very simple for me.
I am writing this to recommend Rajat in the highest possible terms to anyone who may be seeking a truly outstanding web designer. Not only was his work exceptional, but his price was very competitive and he did everything according with our specifications, to the highest degree. Nothing we put across to him (and we're fussy customers!) was too hard or too challenging, so I really want to thank him and also recommend him to anyone who may be looking for an existing or a future project.
Supersonic IT Solutions delivered a comprehensive customised web-based and mobile app solution that provided a seamless platform for our business needs. We are highly impressed with the responsiveness and work ethics for our web/mobile application which were really critical for our business.
January 3, 2023
You're concerned that users aren't engaging with your digital product. Appreciate the work that went into making your user interface and user experience so great.
December 9, 2022
You're concerned that users aren't engaging with your digital product. Appreciate the work that went into making your user interface and user experience so great.
November 11, 2022
You're concerned that users aren't engaging with your digital product. Appreciate the work that went into making your user interface and user experience so great.
Let's connect, innovate and grow together!